Doctors & Staff
Meet the experienced and friendly doctors and staff who make Insight Optometry the leading provider of vision care products and services in Suttons Bay.
---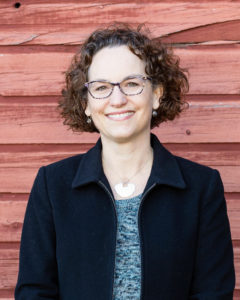 Andrea S. Becker, O.D.
Dr. Andrea Becker has practiced optometry since graduating Summa Cum Laude from the Ohio State University School of Optometry in 1991. Prior to that she graduated with highest distinction from the University of Michigan with a Bachelor of Science in Cellular & Molecular Biology and French. She was the valedictorian of her class at Traverse City High School.
Dr. Becker has been active in Rotary, serving as the President of the Suttons Bay Rotary Club in 1999-2000, and currently serving as the Outbound Youth Exchange Coordinator and chairing the Life Leadership Committee. She is also a member of the Michigan and American Optometric Association. Every year she travels to the national Vision Source Meeting in order to learn about the very newest technology, bringing the most important of those technologies back to Insight Optometry.
Dr. Becker has a general practice for all ages; however, much of her patient base is geriatric – glaucoma, cataracts, diabetic retinopathy, dry eye disease and macular degeneration. Also, as an amateur computer IT person, she appreciates the eyestrain patients experience at the computer and enjoys the challenge of finding visual solutions for computer use.
Dr. Becker loves to knit and travel, bike and hike. You will also often find her behind the scoring table at Robotics competitions. She has three grown children: Emily (product quality specialist for Amgen), Charlotte (package engineer for Seventh Generation) and Spencer (mechanical engineer for Caterpillar).
---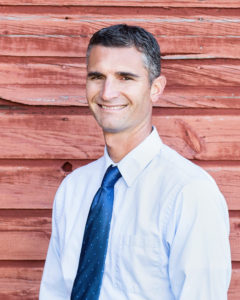 Randy S. U'Ren, O.D.
Dr. Randy U'Ren has been practicing optometry since graduating from the Michigan College of Optometry at Ferris State University in 2003. He received his Bachelor of Science from Alma College, with honors in 1999. He is a graduate of Waverly High School of Lansing.
Dr. U'Ren is a member of the American and Michigan Optometric Associations, as well as a participant in the Northwest Lower Michigan Optometric Society. He specializes in eye health examinations for patients of all ages including pediatrics, macular degeneration, glaucoma, diabetes, dry eye disease, and pre/post-operative surgical care. Dr. U'Ren also participates in the American Optometric Association InfantSEE public health program that provides a no-cost comprehensive eye and vision assessment for infants 6-12 months old regardless of a family's income or access to insurance coverage.
He is an Alma Scots soccer alumni and the current NorthBay Girls Varsity soccer coach, and a former coach for the Suttons Bay High School Boys Varsity soccer team from 2006-2011. Dr. U'Ren has been involved in the Leelanau Youth Soccer League bringing the love of the sport to the community. Dr. U'Ren enjoys spending time with his wife, two daughters and living in beautiful Leelanau County.
---
OUR STAFF
Our upbeat and friendly staff are here to help you throughout your entire visit. We will assist you in scheduling appointments, visual field testing, OCT scans, Optomap photos and MiBO procedures. We will be happy to help you in ordering contact lenses, or often the case, help you select your new eyewear, selecting lenses and frames that are personalized to you.
---
Debra Blodgett
Debra joined the Insight Optometry team in August of 2015. She moved to the area in 2011 from southern Michigan, achieving her dream to move to the Leelanau Peninsula, which has been home to her family for several generations. Debra is a registered Medical Assistant (ARMA) with an emphasis in healthcare administration and is also a former adjunct instructor for Baker College.
Debra's role in the office is within several different areas, including: Office administrator, optometry technician, optician, and insurance billing. Those duties include patient exam testing (including lensometry, retinal imaging and optical coherence tomography) and she can also be found in our optical dispensary assisting patients with eyewear selection and repairs.
Debra is also the Vision Source Representative for our office! She enjoys working with a great team of doctors and staff. In addition to all of her other duties, she provides staff training and cheers them on, encouraging them to excel to the best of their ability and to always keep learning.
In her spare time, she enjoys spending time with her husband Richard, daughters, Amanda and Samantha and her 8 grandchildren, Collin, Lucas, John, Nora, Nathan, Mia, Charlie and Jace. She also loves boating, gardening, interior design, volunteering and enjoying everything that Leelanau County has to offer. Debra looks forward to assisting the patients of Insight Optometry with all of their optical needs and is proud to call Leelanau home.
---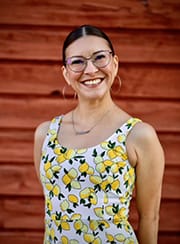 Laura Ciccone
Laura has been a member of the Insight Optometry team since 2019. She works in helping our patients to select their personal eyewear and instructs new contact lens wears on how to insert and remove their contact lenses, as well as how to properly care for them. Other duties include dispensing glasses, adjusting and repairing eyewear.
The favorite part of her job is seeing our patients leave happy, being able to see well, and feeling confident in their new look! Her motto and goal is "Helping Northern Michigan to be more confident and fashionable in eyewear one face at a time!" Laura brings a high sense of style to our optical boutique.
Laura is originally from Phoenix Arizona and Los Angeles. She is a graduate of FIDM Los Angeles with a degree in Merchandise marketing and product development for cosmetics and fragrances. She is a former TV/film actress and professional ballet dancer, as well as a certified yoga instructor.
When not at work, she enjoys spending time with her husband and three boys. Laura's favorite things to do are traveling with her family, good food, fashion, 90's hip-hop/R&B, anything pop culture, her dog Mabel, karaoke, summer time and RuPaul's Drag Race.  She looks forward to one day moving back out west to enjoy warmer weather year round and eventually continuing her acting career.
---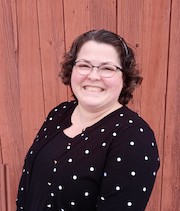 Elizabeth Priest
Elizabeth Priest joined the Insight Optometry team in August of 2019. Her role in the office is in office administration and is also an optometry technician. A few of her duties include office and optical inventory control, computer software programs, patient pre-exam testing (including lensometry, retinal imaging and optical coherence tomography) as well as optical dispensing and repairs.
Elizabeth is a born and raised fifth generation Leelanau county resident. She has lived on Mackinaw Island, as well as in Petoskey, Charlevoix and Traverse City, but her heart always brings her back home to Leelanau. Elizabeth has extensive experience and knowledge in customer service, inventory control and an Associate's degree in Business and is thinking about pursuing an entrepreneurial degree. 
When not at work, Elizabeth enjoys spending time playing Mario video games with her nieces and nephews, taking her dog Allee on trail walks, cooking for her family, gardening, singing with the radio and taking nature photography. She is about honesty, kindness and making at least one person per day laugh.
---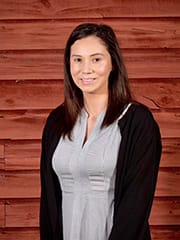 Rachel Ribeiro
Rachel has been a member of our Insight Optometry team since June 2023. Her role within our office is Optometry Technician. A few of her duties include patient pre-exam testing (including lensometry, retinal imaging and optical coherence tomography) as well as patient electronic health record entry and patient health history.
She was born and raised in Peshawbestown, Michigan and is a member of the Grand Traverse Band of Ottawa and Chippewa Indians. Rachel graduated from Michigan State University with a degree in Social Relations and Policy. She completed a study abroad in Sydney Australia and lived there for one year. Her previous work experience has been at a Behavioral Health office and Family Health clinic.
When not at work, Rachel enjoys spending time with her husband and son and attending her son's soccer games and hiking.
Rachel looks forward to providing the patients of Insight Optometry a great experience in the pre-testing procedures of the exam, by greeting them in a friendly, positive, calm, and professional manner.
---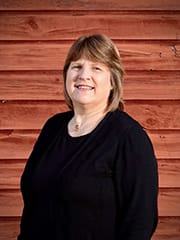 Renee Gradowski
Renee joined the Insight Optometry team in 2022. She moved from the mid-Michigan area to her summer home in Cedar, full-time in July 2022. Renee had a 40+ year career in banking, beginning as a teller and completing her career as a Bank Manager.
Her role within our office is greeting patients and customers at the front desk with a welcoming voice and smile. She helps patients with registering for their appointments and explaining insurance billing at the completion of the visit. Renee's other roles within the office are answering phones, assisting with contact lens orders, and accounting.
Renee is married to her husband Allen of 40 years. Together they have four grown adult children, two boys and two girls. They enjoy spending time with their family and two grandchildren. The other member of their family is Murphy, a golden doodle whose name truly fits his personality.
Outside of work, she enjoys reading, jigsaw puzzles, virtual bike riding to different places in the world, as well as cooking and baking. Her favorite thing to bake is apple and pumpkin pie.
Renee looks forward to greeting you at your next visit and assisting you in any way she can!
---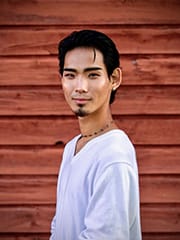 Vadim Manifold
Vadim is the newest member to join our team! His role within our office is in our optical boutique as an optician. You will find him assisting patients in the selection of their personal eyewear. Other duties include dispensing glasses, adjusting and repairing eyewear.
He was adopted from Ulan Ude, Russia in 2003 and grew up in Grand Rapids, Michigan. His past career experience has been in modeling, vast customer service and hospitality. Vadim loves art and design, which includes drawing and painting. Art has always been a skill he works to improve. He is always in the process of a current project. He enjoys studying patterns and shapes and color theories to incorporate into new and fun projects and art pieces.
When not at work, he is always on the go and active. Vadim enjoys exploring the Sleeping Bear Dunes National Park and the many lakes and rivers in Leelanau County. He also like spending time with his dog Glory and close family, listening to music, gardening, and taking time to just connect with the world around him.
Vadim looks forward to the future. As quoted "I would rather remain optimistic towards life. I believe in change, as well as staying open minded towards others, and being KIND. I like to say that '"if someone brought a smile to your face today, then call it a good day!"'
At your next visit, Vadim looks forward to helping patients select eyewear with an "artistic touch" so that everyone looks and feels their best!